Airport Parking
Choose an approved airport parking provider with safe secure, Park Mark car parks from less than 2 miles from the airport at Gatwick and Stansted.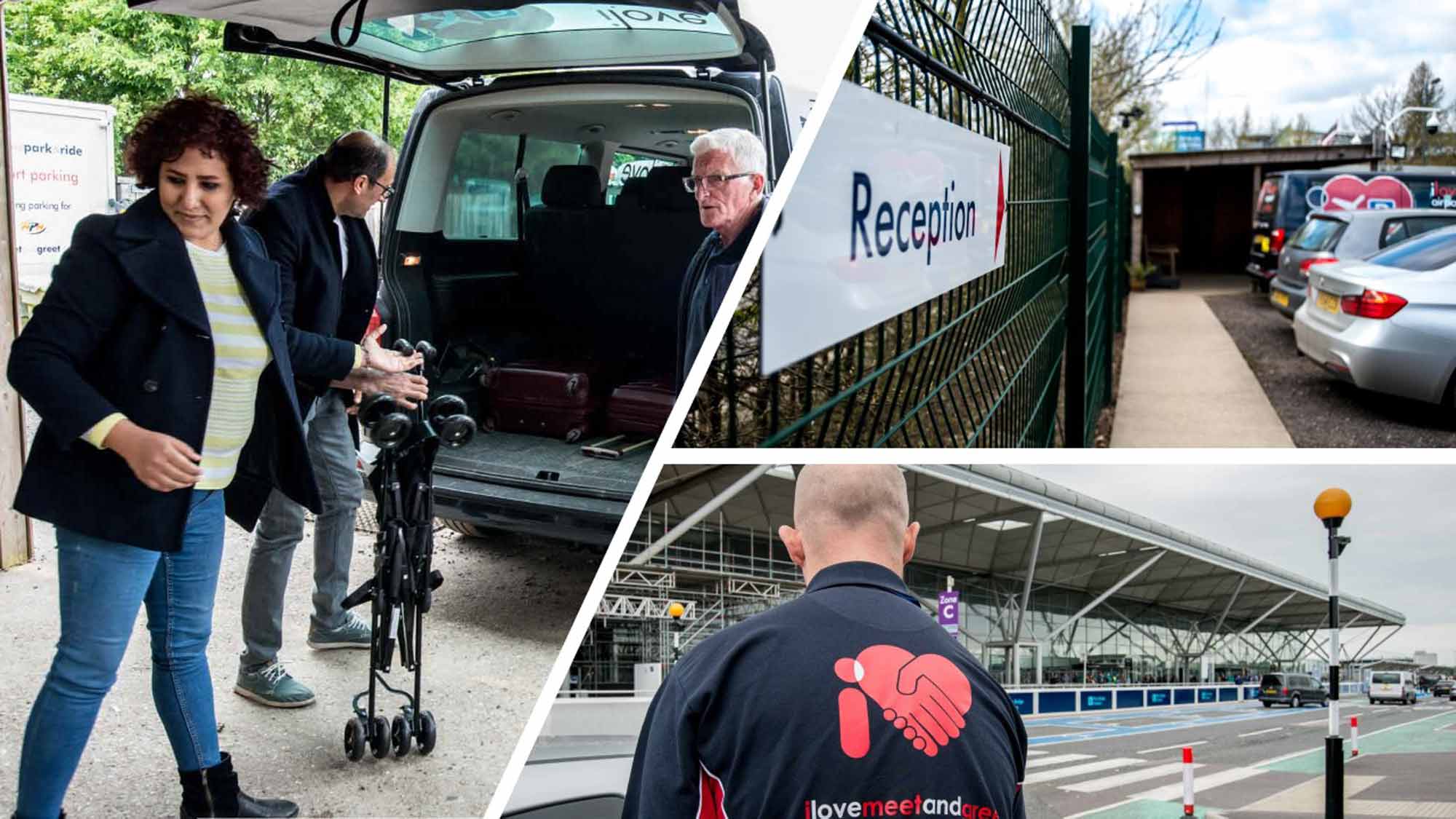 Save 15% with promo code DEC23
Airport parking services
Starting at £35 per week, our car parks are safe, secure and most hold the Park Mark award. Our handpicked airport parking services cover all types of parking whether it be meet and greet from the forecourt or park and ride from an off airport car park. Ours is the best selection of affordable, safe parking at convenient locations near or within most major UK airports.
Whilst you car is stored it will be within fenced, secure, Park Mark awarded car parks. You can even save up to 60% off summer rates when you book early using one of our discount codes. Remember the I Love team actually provides the parking service to you at Gatwick and Stansted. We are not an agency for the I Love and Bubble airport parking services - we actually operate them. So book direct to get the best prices on the web with our price guarantee and discount codes.
With daily rates from as little as £8.50 per day we offer the best selection of affordable, efficient airport parking at convenient locations near all London airports
We provide something for all so take a look and see which airport parking service best suits your needs. Our most popular airport parking package is meet and greet parking, offering a quick and convenient way to airport park. With over 34 years of experience in meet and greet airport parking our management team are the most experienced leaders today. Our friendly and professional staff help make our service great.
We also offer park and ride at Stansted airport and park and deliver at both airports which provide exceptional value for money and are great services just five minutes' drive from the airport terminals. With an on-demand shuttle service this is a popular option for those travelling for business or pleasure.
Which airport are you flying from?
We have an airport parking service from most UK major airports. We have chosen to offer services operated by experts with understanding of the airport they operate from. Most have 10 years plus of experience and this ensures you get a great service
Popular Airports
Our most popular airports are in order of how we view them operationally
Birmingham Parking
Luton Parking
Compare our airport parking services
There are several terms concerning airport parking you need to be aware of to help you understand which service best suits you
Valet Parking - operating from the forecourt or short stay car parks this service is a car collection and delivery service at the terminal and often includes a free car wash
Meet and greet Parking - There are two types of meet and greet - Forecourt and short stay. Forecourt meet and greet is just as it says. A driver will meet you on the forecourt to collect your car, will park it in a secure car park and then return it to the forecourt on the return. This is a personal one to one service, as close as you can get to the terminal doors. Meet and greet from the short stay car parks is not the same. You drive to a designated area of the short stay, unload and find one handover driver who will collect your keys. At some point your car is removed and taken to a secure off site car park. On your return your car is handed to you by the handover driver and you are shown to your vehicle. There are some exit fees to be paid on leaving the car park so check terms and conditions to see any hidden charges. Prices start from £45 for 8 days parking
On airport - although this term usually refers to the airports own car parks. At Stansted, I Love airport parking services are all located within the airport boundaries and can be classed as on airport. Pay as little as £7 per day
Off airport parking - this is where car parks are located outside the airport boundary and slightly cheaper than on airport. Equally secure and professional, all the off airport operators give a personal service at a cheaper price than the actual airport who call themselves official airport parking.
Park and ride - drive to the car park where you park your car, hand over your keys so it can be moved to long term storage areas for the duration of your trip. You will be transferred to the airport in a transfer bus; most are complimentary but take a look at the product description to see if there any extra charges. On your return you jump back in the bus back to the car park where your car will be waiting in the returns area for you. Costs as cheap as £7.50 per day
Holiday Airport Parking - Airport parking during holiday periods
Monthly offers when you book direct
Prizes to win including our easter egg hunt this month
Upgrade your airport parking
With our airport parking extras including hotel rooms, airport lounges and travel insurance you can get all your travel extras from us. This saves you money and time and there is no need to compare.
Why Choose to Book with I Love?
Unlike most third parking agent sites, we actually operate car parks and have done so for over 30 years. This means we have expertise not only in how an airport parking service should work but also what is expected for our clients. What we write is accurate about all our services and we have an open book policy, where we try to inform the customer of everything before they make their choice. All customers who book direct benefit from our weekly discounts - we never promote anything other than the services we offer so you get our best deals. This weeks discount gives you 22% off if you have registered with us so why not register now and get your airport parking cheaper than anywhere else on the web.
Simply select your dates at the top of the page together with the times of travel and the airport of choice and see what fantastic offers we have today.
If you have any questions then please call one of our team on 01293 577988 who will be able to answer any questions you may have.
Reviews
See what our customer say about us and notice our Reevoo score - we are at 97% with our customer satisfaction - one of the highest scoring airport parking companies on the web. You will notice if you compare, only the operators of car parks seem to have the highest score for customer service as we care about each and every one of you. Booking agencies do not have the same depth of customer service as they simply book you in but do not deliver the service. Be assured you get best prices and best service when you book direct - hence our price and service guarantees.
"Just a great service. Never any hanging around waiting for them like other meet and greets we've used!" - Anne - 8th July 2018 from Feltham
"Really easy to book, great price and incredible organisation." - Victoria - 7th July 2018 - from Kent
"Arguably, the most reliable and experienced airport parking facility available. I have been using the service for many years now (since the early 'Meteor' days) and would not happily use any other company. Excellent service - keep it up!" - Howard - 6th March 2018 from Hartley Witney
How to Get a Discount
There are several ways to get our best prices. Our weekly discount ensures you get our best prices and we guarantee this!!!
Use our online discount found at the top of this page or to get a bigger discount, register and wait for our weekly discount via our mailing sent on a Wednesday or Sunday. Alternatively if you want to book immediately call us Mon-Fri and one of our helpful team can book you in with our discount code.
Why is airport parking so expensive?
Peope often ask why is airport parking so expensive especially when there are so many cheap flights to choose from. The main reason is staffing and infrastructure. It costs a lot of money to pay staff to ensure your parking experience is the best. There are also many costs associated with running a parking service such as security, buses, fuel, insurances and car park maintenance as they do wear out.