Top Tips for Flying with Kids
We've been in the business long enough to know there's no hard and fast rules when it comes to flying with children. However, if there's one thing we do know it's that travelling with kids doesn't have to be a stressful or difficult experience. Check out our top tips for flying with kids and make sure you're fully prepared for your next family trip away.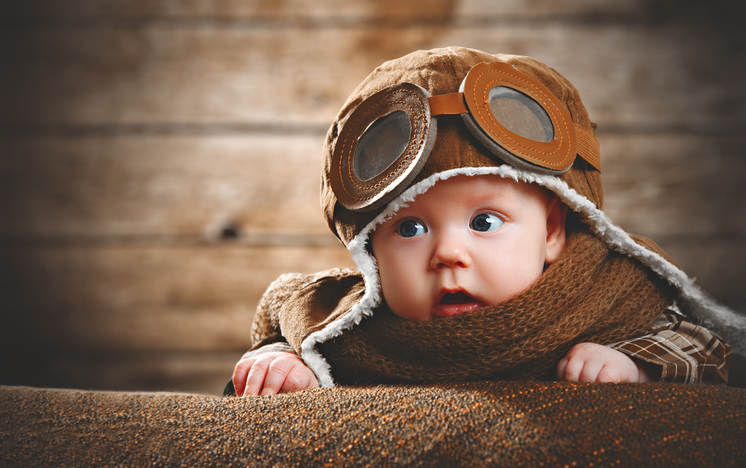 Preparing to Fly with Children
Before you even think about climbing aboard, it's worth researching a couple of things so you're fully prepared for you trip away with the littles ones.
Research your airline's policy on flying with babies and children
Unfortunately, the regulations and costs of flying with babies and children differ across airlines. Not all companies offer free travel for children under two and in some cases seats for older children cost the same as a full adult fare. Check out Skyscanner's guide to airline luggage allowances and charges for flying with babies for a comprehensive overview of the different approaches airlines take to little travellers.
Pack for all eventualities
Life with kids is always full of surprises, packing constructively will save you a lot of stress and bother when you're at the airport or actually on the plane. Even if you're taking a quick city-hopping flight, a change of clothes is always a good idea. You can't predict the effects of a turbulent journey, or the inevitable spillage of some sticky substance! These things just happen and when they do, a clean set of clothes will save the day. We'd suggest you stock up on an impressive wad of wet wipes for all the same reasons.
Make the most of airport facilities
Most grown-ups aren't a big fan of spending prolonged periods of time in the airport. However, it's worth remembering that they can be exciting places for younger travellers. Leaving extra time before your flight will reduce the stress of travelling and also allows you and your family to spend some quality time together in the airport. If you can find a place to watch the planes taxi and take off, this is a great way to while away the time and keep little ones mesmerised. Flying is pretty incredible after all! Airport lounges offer an extra level of comfort and are totally family friendly. Most large airports also have soft play areas which provide a bit of respite for you and helps them burn off any excess energy before the flight.
With over 30 years' experience working in the travel industry, here at I Love we fully understand the importance of being prepared for holidays and family trips away. Booking airport parking ahead of time can save you a lot of hassle on your travel day. Our meet and greet parking is perfect for families with younger children as you won't have to waste time waiting for transfer buses or struggling with heavy bags and pushchairs.
Flying with Kids
Once you're up in the air, there's no going back for any of those things you might have left behind! Whether your flight is short or long haul there are a number of things you can do to ensure you and the little ones have a pleasant journey.
Avoid take off trauma
Often the toughest parts of flying with children is take-off and landing. It's noisy, bumpy and drops in pressure causes painful ears. It's hard to explain to howling toddlers that it's only temporary, but there are a couple of practical things you can do to reduce discomfort. Always take a packet of boiled sweets or lolly pops, plenty of sugar-free varieties are available. Sucking on something solid will help children's ears re-adjust to the right pressure and these treats also act as a welcome distraction. Give babies bottles or pacifiers to help them pop their ears.
You might have been on lots of flights but it's worth remembering your children are new to the experience. Take-off and landing are a great time to build enthusiasm and harness the exhilaration of flying.
Keep them entertained
Bored, fidgety, tired children make poor company for you and your fellow passengers. It's always a good idea to bring along a smart phone, tablet or portable DVD player loaded with their favourite TV shows, films or games. In flight entertainment isn't always available and might not live up to expectations. For younger kids, take a few toys from home, revealing these is bound to make faces light up. Just remember to keep those devices charged up and save some surprises for the way home!
Make the most of night flights
There's a strong argument for choosing overnight long-haul flights. If your kids are good sleepers then why not make the most of the circadian rhythm by treating night flights just like normal bedtime? Get them in their pyjamas, read them a story and tuck them up for night. Avoid any sugar rushes before bed and minimise screen time, 'blue light' is proven to disrupt our natural sleep rhythm. Travel pillows are a must!
If your little ones are too excited to sleep then a children's audio book is a great option. Just remember a decent set of headphones.
Remember to treat yourself
If you're tired and run down you aren't going to be able to give the holiday your all. Make time to treat yourself, it's amazing what a difference the small things can make. Whether it's buying the new best seller or just picking up your favourite chocolate bar at the airport, it's important you enjoy the flight too. If you're travelling with a partner or older family member it can be fun to buy each other a mystery gift to open on the flight.
We hope our top tips for flying with kids have been useful. If you have any of your own you think we should include, we'd love to hear from you! In the meantime, make the most of the holidays and enjoy those stress-free travels.