Gatwick Airport Parking
We guarantee you the best airport parking deals - always book direct for best prices.
Our cheapest deal at Gatwick is our one way meet and greet service at Gatwick - park and deliver. Book using our discount code DEC23 only available on this website.
Always book in advance to get best prices and make sure you compare services to ensure you get a like for like service comparison.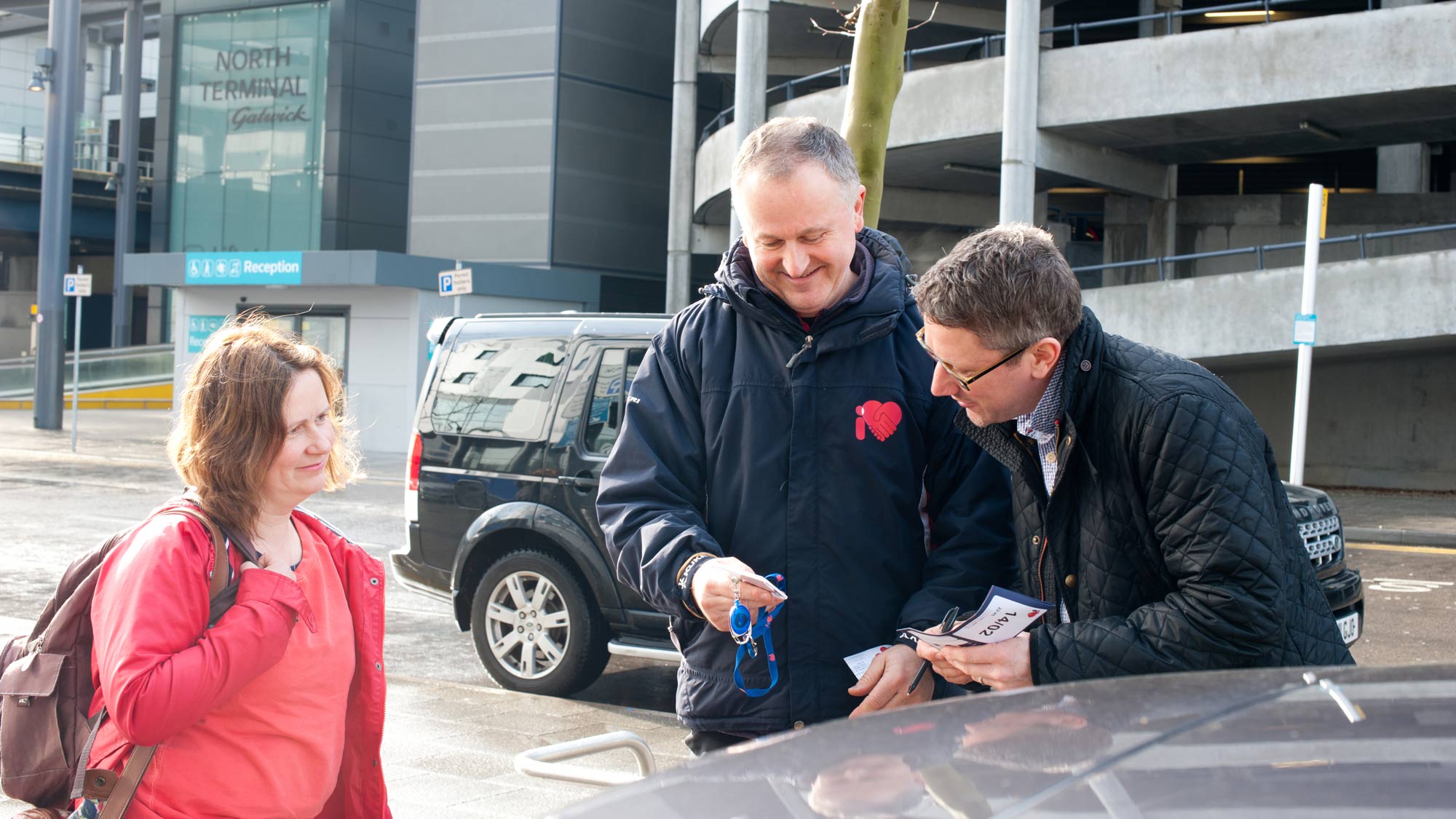 How do you know what airport parking at Gatwick to choose? With so many different options and operators available, how do you know who is reliable and the best?
Luckily, I Love meet and greet have broken down some of your best airport parking options so you can choose airport parking at Gatwick that best suits your lifestyle.
Compare our Cheapest Gatwick airport parking deals
Use the comparison table below to see the type of service and prices that are best for you at Gatwick.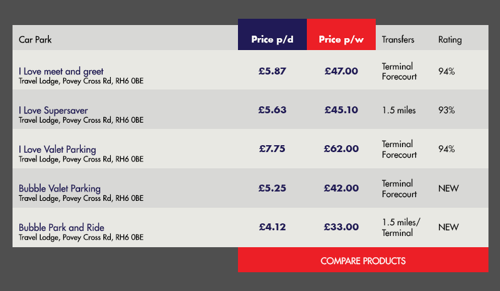 Gatwick meet and greet parking is a great choice for those on a tight deadline and, unlike the airport's own meet and greet service and other Approved operator services, our drivers will meet you on the terminal forecourt - the only true valet airport parking experience at Gatwick.
Top Tip
Use a Gatwick Approved Operator - forecourt collection to avoid situations like this - how not to airport park at Gatwick .
News Update
Why not try Bubble park and deliver which allows you to experience both types of airport parking at Gatwick. Drive to the car park outbound and enjoy a meet and greet on the forecourt on your return. Not as expensive as full meet and greet this airport parking at Gatwick saves you time as your car is returned to you at the terminal forecourt allowing you to drive off home.
Why choose Gatwick airport parking with I Love?
We offer a full range of airport parking products at Gatwick to suit all needs. Our car park is on the airport boundary and we can be with you in a few minutes of your call.
We have over 30 years of expertise of Gatwick airport parking
Approved operators, experts at meet and greet and highest ranking scores for meet and greet services on the web set us apart from our competitors
Our prices are competitive when you book direct and use our weekly discount code. Third parties cannot give you better rates than we do.
Types of airport parking at Gatwick
There are three types of airport parking at Gatwick
Not many operators have the privilege of operating entirely from the forecourt at Gatwick. I Love meet and greet are proud to say we offer this exceptional service and our friendly, dependable staff will be there to collect and drop off your car at the terminal doors so you can focus on enjoying your trip.
Our airport car parks hold the reputable Park and Mark award and we're happy to be accredited members of the Gatwick Approved Operators scheme. Discover the full benefits of valet parking at Gatwick with I Love meet and greet when you book online today.
One Way meet and greet
This type of airport parking at Gatwick allows you to experience both types of service with our partners Bubble Parking. Recently added, Bubble park and deliver allows you to park in our car park only 1.2 miles from the airport and have a meet and greet on your return on the terminal forecourt. Priced competitively this product is cheaper than meet and greet but a little more than full price park and ride
Gatwick Park and Ride
If you're on a tight budget and have plenty of spare time, then using a Gatwick park and ride service might be more in line with your style of travelling. Park and ride services can be time consuming as they often involve parking far from the airport and using a transfer bus to reach the Gatwick terminal. We urge you to remember to leave extra time in your travel itinerary if you prefer this method of airport parking. Our reputable partner APH is on hand to offer this popular means of Gatwick airport parking. Book through our sister site www.iloveairportparking.co.uk if you want a park and ride service at Gatwick.