Christmas Travel Tips
It is estimated that over 3.5 million people will travel overseas for the Christmas holidays this year. When you also add in visits within the UK, with UK residents expected to drive an average of 302 miles in the two weeks from 21 December, it is easy to see why it is worth getting as organised as possible for your festive getaway.
As well as airports being busier, up as much as 7% on last year, Network Rail traditionally uses the holiday season to conduct large infrastructure improvement works which means fewer trains.
Unlike the summer holiday season when leisure travel can be spread across several months, Christmas is a focussed two-week period when everyone is very keen to get to their destination and start enjoying themselves. According to research by mental health charity Mind, 28% of us feel the pressure to have the perfect Christmas, with one in ten feeling unable to cope.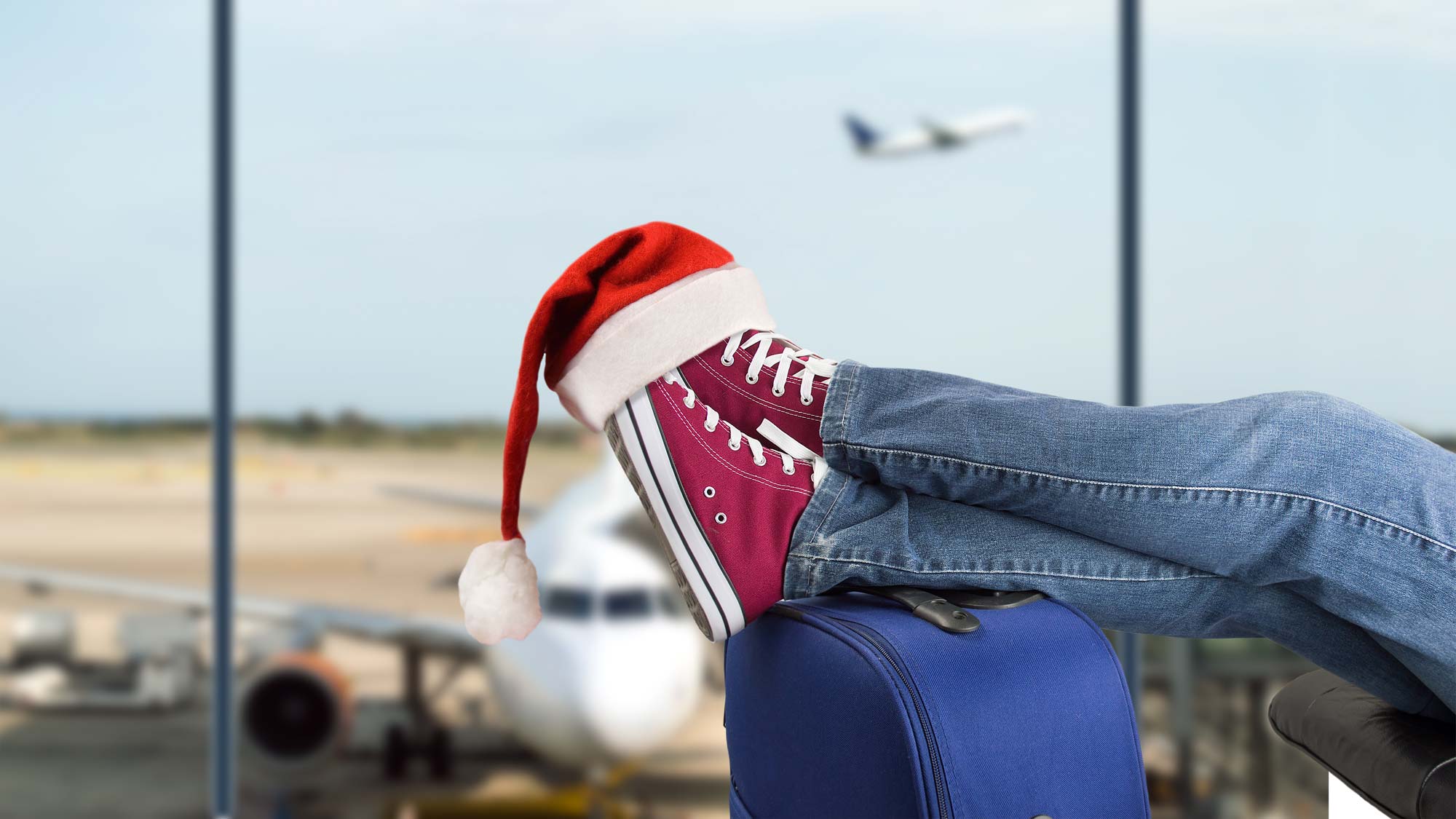 Planning
All the professional advice about avoiding and reducing stress includes adding a little planning to the situation. There is no need to replicate a military-style operation with every minute of your journey accounted for, but it is worthwhile doing some light research beforehand, so you know the general flow of your trip.
Too much choice can cause its own stress but having some options if there are delays or disruption is very sensible. With the amount of people travelling some mishaps are extremely likely but a flight delay does not have to be disaster if you have some idea of how to occupy yourself and your travelling companions.
Practically for people flying this means looking up the route to the airport – with Google Maps you can select a future time of travel to give you some idea of the predicted traffic conditions. Ask yourself some obvious questions – are there planned roadworks on the route? What are the forecast weather conditions? Then you can plan the best time to leave home. If you have booked meet and greet parking, you will have told them an estimated time of arrival (not your flight time!) although the professional operator will give you a number to ring when you are ten minutes away from the terminal, which allows them to fine-tune their service. At this point you can explain that you are early or late.
The other part of research you can conduct is to look up the terminal facilities, investigating what restaurants, cafes and shops are available. Remember these will all be quite busy at this time of year. If your airline has a lounge check that out too or maybe, consider whether any of the third-party lounge facilities would be suitable for your needs. Not all the shops are open for all flights and some restaurants might restrict their menus at certain times.
Preparation
When you are packing for your Christmas trip, it is sensible to consider what you might use in the terminal before your flight, so for instance think about leaving a phone charger in your hand luggage.
If airport prices are too much for your budget, then take your own food – a few sandwiches and snacks are much more convenient than queuing in line for a table. Just remember you can not take liquids through security although you can take an empty re-usable water bottle and fill it in the departure lounge.
It is often best to check-in from the comfort of your home, rather than waiting until getting to the airport. For some airlines this will save you money and for others it is likely to reduce your queuing time. Print off or save your boarding cards to your phone.
If you need to pick up presents it is worth remembering that you can have purchases delivered to some of the airport shops. Simply order online and select the airport destination for click and collect.
If you have not already downloaded your airline's app, do it when you are at home or on free Wi-Fi. You can set alerts, so you get notified when the gate is open for boarding, often before the big terminal screens are updated and if there are any delays you will also be told.
If you do not know the best way to drive to the airport, use a sat nav or an app on your phone. Save the route in advance so you are not having to struggle with it whilst driving. Also enable traffic information services if supported, as these will keep you informed of any last-minute road delays.
Going to the airport
Use the car journey to let people know about their seats on the plane and what is on offer in the terminal. Your sat nav will update you on the progress of the airport journey and sharing this keeps everyone in the know. For many people their holiday starts when they get in the car to the airport.
Have some fun driving games to hand if you have a young family or if it is very late/early this can also be a good time to get some much-needed sleep. Designate one passenger to be your point of contact for your parking – either to call when ten minutes from the airport or have any documents you need at the car park.
At the airport
Once you are in the terminal have a plan of action. It is often much less stressful to get rid of your cases early – after all who wants to be lugging around extra bags?
Planning can relieve a lot of stress during the Christmas period but don't live for your to-do list, just bask in the moment for maximum enjoyment. Being present during the holidays is the most enjoyable thing you can do and hopefully our tips will allow you make the most of your festive trip.
With your bags checked in, head off to security as it is not always easy to predict how busy this area might be. It is possible to buy premium security at some airports which offers a much quicker process.
If you plan to eat, explain to your waiter when your flight is, so they can serve you accordingly. Do not be afraid to ask for the bill with your food to speed up the payment process.
Keep checking your airline apps or watch screens for information on your flight and be aware that your boarding gate might be some distance from the main departure lounge. Some airports have transit shuttles out to the furthest gates.
It is quite possible that you will be delayed so have some extra activity to occupy you and your travelling companions. This could be window shopping, reading a book or catching up on your social media.
Returning
On your way back to the UK at Christmas time, it is likely to be damp and could be cold, so think about what you might need to wear for the journey home – whether you are coming back from France or the Caribbean.
If you have booked valet parking, you will need to ring your operator once you have been through passport control and collected all your luggage. This means they can have your car ready on the terminal forecourt, with the added advantage that it will be de-iced and warm when you get in.
Returning home from a Christmas break you will probably be looking forward to a decent cup of tea, but you might need to pick up milk, bread or other essentials on your way home. Be aware that some shops might not be open, due to limited Christmas hours and this can apply even to some garages if you also need fuel.