Accessible Holidays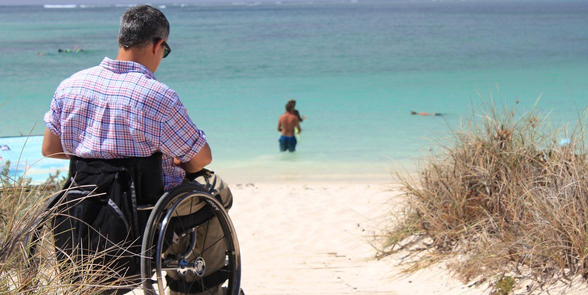 According to statistics over 20% of the UK population is currently living with a disability, ranging from mobility problems to hearing and sight impairments. The number of less-abled and disabled people is also increasing every year. Having to consider and cater for your disability, if you are travelling or going aboard can be quite stressful and daunting, but a greater number of travel companies are now accommodating the less abled, making travelling much easier. The team at I Love meet and greet regularly lend a helping hand to travellers that need that extra assistance as we meet them outside the airport terminal.
Assistance at the Airport
Airports and airlines welcome disabled travellers and do everything they can to make travelling easier for anyone with a disability or reduced mobility. 48 hours before you are due to fly, let the airline you are travelling with, know that you require additional help with your journey. Trained airport staff are situated throughout the airport and provide help to ensure a smooth route through security and assist with some of the long distances to the departure gates. You can take your own wheelchair through the airport or the staff can provide you with one on-site.
Most airlines have reserved seating areas for travellers who require assistance at the airport and you may be asked to board and depart the plane after the rest of the passengers have boarded and disembarked.
We recommend all travellers plan to arrive at the airport early, this leaves plenty of time to account for any unforeseen hold ups and is a great way to give you peace of mind before a long journey.
Disabled Holidays
Holiday companies are beginning to recognise just how difficult it can be to book a holiday or travel with a disability and are now offering more accessible holiday options; it's now common for find accommodation and hotels with wheelchair access; as well as venues offering activities such as horse-riding, cycling and sailing which cater to travellers of all abilities.
It's always a good idea to research accommodation in advance and if using other modes of transport, it can be helpful to read up on your destination to ensure that buses, footpaths, stations are going to be easily accessed.
Preparing for a Holiday
Planning ahead is often necessary if you have a disability or are travelling with a person who has; gather as much information as possible about the place you are planning to visit, check all wheelchair and disabled facilities.
Take extra medication and any emergency contact details including your doctor's telephone number. Ask your doctor for a letter which covers your condition, medication and requirements. Depending on the remoteness of your destination, it may even be an idea to take some simple tools in case your wheelchair or walking frame need to be repaired.
If you are travelling abroad and do require assistance when parking at the airport, consider using I Love meet and greet for your airport parking - they will meet you with your car directly outside the terminal building.
By
Sarah Anglim
at 20 Mar 2017