Apps for people on the go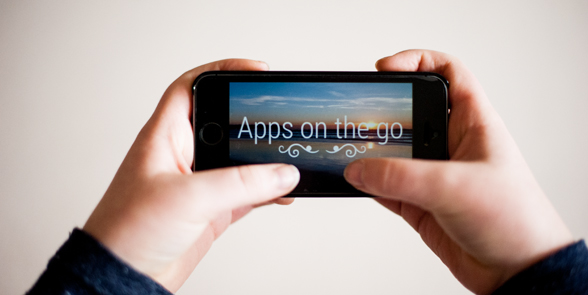 It is hard to believe that the smartphone 'app' has only been around since 2008 and with the popularity of mobile apps continuing to rise and the dizzy array of apps available we, at I Love meet and greet thought we would take a look at a selection of travel apps.
Our customers are constantly telling us of the many apps they have found useful whilst on their holiday or business trip; from helping them to plan their trip, receive hotel discounts or sorting out transportation in a new city.
Weather is such a topical subject no matter where you are and we all want to know what the weather is going to be like, especially when we are away. The WeatherPro app offers weather reports for well over two million geographical locations giving you everything from cloud formations and atmospheric pressure to wind speed and humidity. So you will know if you are going to need to pack that umbrella or not!
Trying to work out how much money to take with you on a trip or calculating how much something costs abroad couldn't be simpler with the XE Currency app. It is a currency conversion app, completely free to download and as it uses live currency rates it is completely accurate.
You can follow the path of thousands of international flights with the FlightTrack app. With zoomable maps it gives you detailed information on departure gates, arrivals, delays and (hopefully not) cancellations.
The Sunscreen (free) app will stop you looking like a lobster. Tell it where you are going and it will detect the UVI rating for that area. Input your skin type and the SPF of your lotion and it sets a countdown timer to alert you when you're due for your next smothering of sun cream.
In some countries leaving a tip can cause offence and in other countries it is expected. The Tipulotor app provides a tip calculator allowing you to take the guesswork out of tipping. It will automatically calculate your grand total, work out your tip and even split your bill with up to 50 people.
Hopefully an app that you won't have to utilise very often but could be very helpful to download, the TravelSafe Pro app lists information on all emergency services around the world. It includes telephone number for the police, medical and fire services and even embassy details should you have trouble with your passport.
Have you ever worried about finding yourself stuck in a strange city with no money, well the PinPinATM Finder (free) app uses your smartphone's built-in GPS to find you the nearest cash machine in 220 countries worldwide.
Overcoming the language barrier while you are away couldn't be easier with the Google Translate app. It is a simple and easy to use app which includes almost every modern language and you can translate with your voice, camera, keyboard or handwriting. So at least you have some chance of asking for the bill, wherever you are.
Using your Smartphone to capturing your holiday memories is becoming increasingly popular but if you want to take a photograph of that panoramic view try downloading the PhotoSynth (free) app and your panoramic shots will be created instantly.
And with all this technology at our finger tips and before downloading all your travel apps don't forget to start your holiday off stress free by booking I Love meet and greet airport parking online on your smartphone.
By
Sarah Anglim
at 7 Apr 2015