The Development of Airport Culture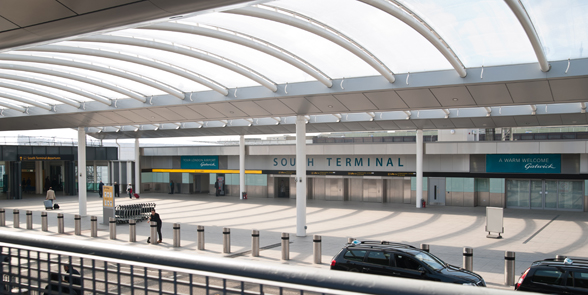 Over the years airports around the world have developed into centres of culture, recreation and business. ..it is hard to believe that airports were initially small functional buildings and now they are multi-purpose hubs with retail outlets, dining facilities, hotels and much more to match the customers' ever-changing demands.
The first airports started out as grassy fields. It was not until the increased aircraft traffic during WWI that landing fields were actually constructed. Regulations for approaching from certain directions were then introduced along with aids for actually directing the approach. The landing and takeoff distance was roughly 600m and the total area of the airfields was 500 acres max. During the late 1930s, when heavier planes were introduced, takeoff and landing distances became longer and so the size of the airfields doubled.
Following WWII, several military airfields created facilities to handle passenger traffic. These passenger buildings were grouped together in a building called the 'terminal' with the runways to the side. This set up formulated the traditional layout that we see in airports today. As the demands of passenger traffic heightened, the need for larger spaces of up to 17,500 acres prompted airports to move to the outskirts of towns.
The 1960s saw the increase in jet aircraft traffic and the lengthening of runways to 3,000 metres long. The innovation of the jet bridge system to the terminal also allowed indoor passenger boarding. It was during this time – when commercial flight became popular – that the airport started to dedicate more and more space to passenger facilities of retail, dining and leisure as passengers were looking to entertain themselves whilst waiting for their flights. As a result, airports which originally only had a holding room and a newsstand, have developed into travel centres with high end fashion shopping malls, gourmet restaurants and other facilities like spas, cinemas and even art galleries.
Nowadays airports like Gatwick Airport have shops such as Fat Face, Ray Ban and World Duty Free as well as a variety of restaurants and cafes including Giraffe, Yo! Sushi and Starbucks, whilst Munich Airport has a sports arena where passengers or locals can watch a volleyball tournament or even a polo match.
Passengers at Changi and Dubai Airports can watch aircraft arriving and departing while taking a dip in their outdoor pool or can visit their Butterfly and Zen Gardens and you can even ice skate at Icheon Airport.
Although the primary function of any airport is still to provide air transport, retail and food outlets provide nearly half of the revenue at some of the biggest airports. At Gatwick, 10.6% of the combined area of the North and South Terminals is dedicated to retail facilities.
In recent years, airports have aimed to provide not only leisure facilities but business facilities too through 4 or 5 star hotels like Gatwick's Sofitel. Other twenty-first century evolutions include changes to the interior of the airport. Previously, space for check-in, security and baggage handling was extremely important but the use of self-service kiosks, smart-phone boarding passes and online check-in means that more space than ever before can be dedicated to additional retail and leisure facilities.
The airports of today have more amenities than anyone would have thought possible when looking back at the days of those small grass fields. With their multi-functional infrastructure they are not only important to the local area but are also considered to be full-fledged cities in their own right.
Having been parking cars at Gatwick Airport since 1984, we at I Love meet and greet have seen the airport develop into the second busiest airport in the UK. Whether you come to the airport to shop, eat, sleep or fly, make sure you book with I Love meet and greet so that you have enough time to enjoy the extensive facilities.
By
Sarah Anglim
at 22 Sep 2015