Don't forget your toothbrush…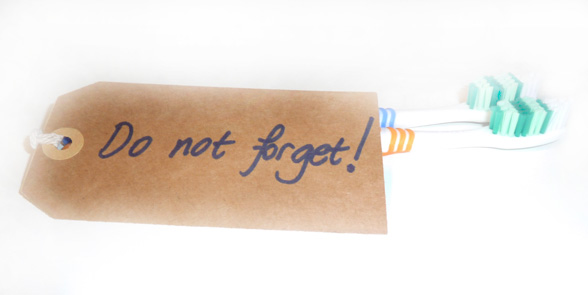 How many times do you check to make sure you have all of your belongings at the end of a holiday?
You dig through suitcases, check under beds and scan the room until you're satisfied you're not heading home without your passport/mobile phone/youngest child.
But still we leave things behind – and it's not just a handful of foreign coins.
Realistically, when we're travelling with children, or we're in a hurry to catch our flight, it's inevitable that things are forgotten in the rush.
Of course, when you use I Love for your valet parking at the airport, leaving your keys behind in a foreign hotel room is not an issue, as we'll keep them safe and secure – along with your vehicle – until you're back in the country.
The following list contains things that we can't control, though, and are the most common items that travellers leave behind at the end of their holiday …
Electronic chargers
The list of electronics commonplace for a foreign trip is mindboggling – and the leads we use to charge them are frequently left behind. Whether it's an iPhone, iPod or camcorder charger, they are often missing from our suitcases when we reach home.
Electrical appliances
Hairdryers, hair straighteners, curling tongs and cameras are regularly separated from their owner at the end of a trip. Aside from the obvious annoyance, these items are usually the most expensive to replace on your return.
Children's clothing
Forgetting to bring home your daughter's favourite swimsuit or your son's beloved shorts is likely to put you in the bad books for a little while – but countless parents will be in the same boat as children's clothing is one of the top items left behind at the end of a holiday.
Books
Definitely not as annoying to leave behind as the other items listed, but books are another commonly misplaced holiday item. Whether this is on purpose, because readers didn't agree with the ending, remains to be seen…
By
Sarah Anglim
at 30 Jul 2013