The epic journey of the down-to-earth airport trolley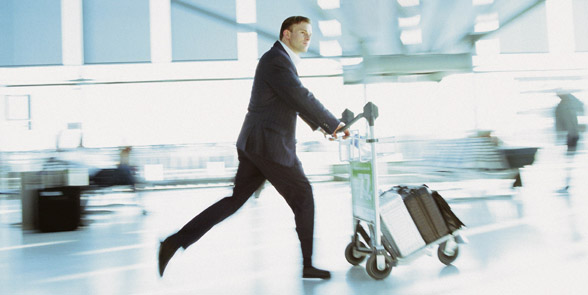 The luggage trolley is the unsung hero of the airport. Permanently on standby to transport our heavy baggage to the terminal, all it needs is a push in the right direction and off it goes.
For most of us, though, while we appreciate its assistance, the trolley's origins or evolutionary design advances are unlikely to be given much thought – but we feel its genesis deserves some attention …
Said to have been invented by Sylvan Goldman, the same chap who invented the shopping cart and amassed a $400 million fortune in his lifetime, a typical trolley consists of a small basket for holding carry-on luggage and a larger section for suitcases, golf clubs and skiing equipment.
A fixture in airports around the world for approximately four decades, the humble trolley has grown from a temperamental four-wheeled joyride into a sophisticated aluminium model, which offers travellers the smoothest of journeys to the check-in desk.
Making your trip to the terminal easier
Admittedly, an airport trolley is hardly the pinnacle of modern engineering, but its genius lies in its simplicity.
To keep you safe, the trolley is fitted with a handle-activated brake, but this particular feature is far from standard as very few carts in developing countries, particularly in Sri Lanka, offer this feature.
Nowadays, some airports charge you for the privilege of using a trolley (£1 or £2 in certain locations, but London Gatwick is free), with technological advances offering the opportunity to pay by credit card for use of the handy baggage transporter.
However, with over three billion passengers carried by the world's airlines every year, the airport trolley is worth its weight in gold and paying for its convenience, it seems, is of little to concern to passengers around the globe.
By
Sarah Anglim
at 19 Dec 2013