Gatwick Airport at Christmas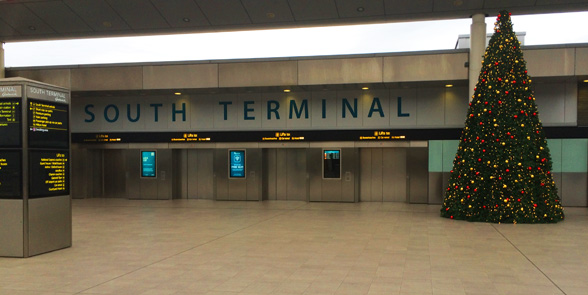 Travelling at Christmas can be exciting and magical. It is a time full of anticipation as you jet off to spend time with family and friends. And with around two million travellers expected to pass through Gatwick Airport this festive season, the airport are doing what they can to make sure that everyone's air travel is as stress free as possible; whether that is making sure people can get through security in less than five minutes or having extra help on hand to assist passengers with their onward journeys.
Gatwick Airport has laid on numerous activities to entertain its passengers whilst they make their way through to the departure gate. The airport's choir, formed by staff at the airport will be singing a mixture of Christmas carols and entertainers will be on hand to provide some festive cheer and get everyone into the Christmas spirit.
The London Gospel Choir will be entertaining passengers, there will also be storytelling from a puppeteer polar beer and Eskimo, a Michael Buble tribute singer and complimentary mince pies.
You can even take a festive 'Sleigh selfie' in the giant Gatwick Airport sleigh situated in the South Terminal. The airport will even print your photograph for free.
Gatwick will also see the return of London 2012 Olympic and Paralympic Games volunteers as London Ambassadors who will be providing a warm welcome for visitors as well as those returning to the UK for Christmas. This initiative is designed to ensure that passengers have a smooth onward journey once they touch down at the airport.
All the shops will be open for that last minute Christmas shopping and the majority of them will offer a Christmas wrapping service. Duty Free also provides a great opportunity for those few final presents as you make your way through the airport. The shops and bars are open as normal over the festive period except for Christmas Day where they will open from 07:00 to 16:30.
Your Service Centre Gatwick has also produced a Christmas Children's Guide to the airport which has many activities to help entertain the children as they make their way through to departures. Make sure you pick up a free copy.
And here at I Love meet and greet, our drivers will be ensuring you get on your way into the airport departure lounge as soon as possible as we meet you right outside the terminal building.
By
Sarah Anglim
at 22 Dec 2015