Getting away from it all?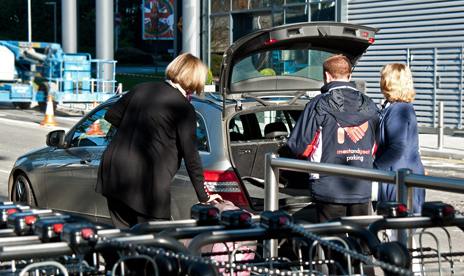 Christmas is just around the corner – and the pressure of another festive season is enough to make us seek hibernation for the winter.
But for many, the imminent arrival of Santa means something entirely different.
Thousands of people take this opportunity to jet off to warmer shores and leave the wintry British weather in their wake.
And, although spending the festive season with the sun on your back SOUNDS more relaxing than wrestling with an oversized turkey , it is not without its own stresses.
Before you're safely belted up and waving manically from the plane, there are a variety of obstacles to be safely negotiated.
Firstly, there's the decision of how to get to the airport.
Bus? Train? Car? Rickshaw?
Travelling with children and large amounts of luggage will mean most families opt to arrive at the airport in the comfort of their own vehicle – the less hassle the better! But searching for a parking space and fighting with baggage can mean stress levels rising and festive fervour replaced with the winter blues.
For those travelling to airports in London, however, why not take advantage of meet and greet Heathrow? Simply pull up at the terminal and a professional, uniformed driver will collect your car, park it in a secure compound and then bring it back once you've touched down.
Simple!
Once you're in the airport, though, you may be faced with strikes, cancellations or postponements – and keeping the kids entertained during a 14 hour delay is enough to drive you insane.
Luckily, most airports offer facilities designed to make layovers a little more bearable. Heathrow and Stansted both have play areas located near the departure gate and free Wi-Fi is becoming the norm as travellers are keen to keep connected before jetting off.
Make life easier for yourself by smoothing the route to your departure – and remember: if you fail to prepare, you better prepare to fail!
Merry Christmas!
By
admin
at 16 Dec 2012