How to pack your car with holiday luggage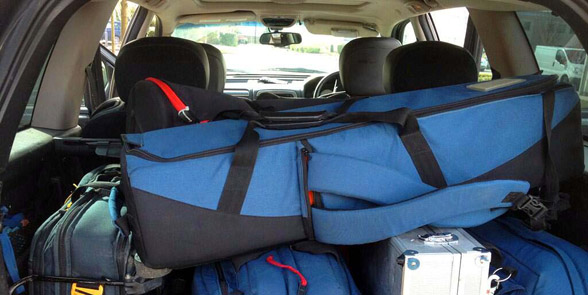 Going on holiday is supposed to be a joyous experience, but we all know that preparing for one isn't always the easiest thing to do. In particular, packing can leave you tearing your hair out in the days running up to your departure.
However, there are ways and means of making it easier. For instance, giving yourself plenty of time to pack, and making a list of everything you'll need (that you can reasonably take with you) well in advance can ease a lot of your mental strain.
Sometimes it's not just the packing that's the issue though – once you've got it all sorted how do you fit everything into your car in a safe manner? Depending on how many people you're going to be travelling with or the size of your car, it can all be pretty tricky.
If your car has a spacious boot then you'll obviously be able to take advantage of that, and if you're only travelling with two people then it makes sense to store some of your luggage in the backseat.
However, it's imperative that you ensure everything is securely fastened – heavy, loose luggage can cause serious injury if, for instance, you need to brake sharply.
If you're travelling with multiple people, your best bet is probably to invest in a roof rack. You'll need to take the time to securely attach it to your vehicle though, so make sure you leave yourself plenty of time to do that. Don't even think of just trying to attach it on the morning of travel…
You'll also need to be certain that what you're carrying doesn't exceed the maximum weight restrictions detailed in your car's handbook. Failure to do so can be disastrous.
Ensure that your load doesn't stick out at any dangerous angles, and that you can clearly see out of all your windows too.
Finally, remember that the heavier load might mean you'll need to adjust your tyre pressures – again, this will be detailed in your vehicle's handbook.
While loading your car ahead of time can be sensible if you're travelling early in the morning, don't leave valuables visible while your car is unguarded, and make absolutely certain that your passports aren't visible either. In reality, doing this is only a good idea if you have a garage to keep the car in overnight.
Got all that? Great. Now, all you have to worry about is where you're going to leave the car at the airport…
And that's where we can help!
Our selection of valet parking options mean that once everything's packed, all you have to do is turn up at the airport and we'll take care of your car from there. It's really that simple, and it cuts out all the hassle.
Contact us for any more information – getting to the airport is stressful enough without worrying about where to leave your car!
By
Sarah Anglim
at 15 May 2013