Tougher Penalties for Using Phones While Driving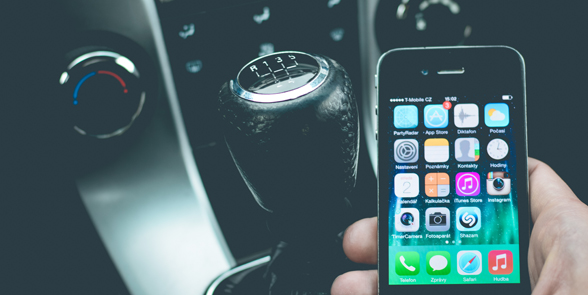 It has been illegal to touch a mobile phone, even with a hands-free set, while driving since December 2003 but even harsher penalties, for motorists caught using a mobile phone, while behind the wheel, were introduced by the Department for Transport last month, in a bid to reduce accidents and improve road safety. Drivers now face double the punishment if they are caught even touching their mobile phone at the wheel of a car.
Dangers of Using a Phone While Driving
As professional drivers, the I Love meet and greet team are aware of the dangers of using any sort of mobile device at the wheel of a car; research has proven that drivers using a hands-free or handheld phone are slower at recognising and reacting to hazards and are four time more likely to be in a crash if they are using a phone. Your reaction times are two times slower if you text and drive than if you drink and drive, and this increases to three times if you use a handheld phone.
Figures produced by the Department for Transport show that a driver distracted by their phone was a contributory factor in 492 accidents in Britain in 2014. It's a tragic truth that more than 200 people have been killed by drivers distracted by their mobile devices in the last ten years.
Mobile Phone Penalties
Under the law, using a mobile phone behind the wheel will be punished whether a driver is making a call, using it on loudspeaker, texting, filming, taking a picture, checking social media or browsing the internet.
Under the new Government legislation, offenders will now receive six penalty points rather than the previous three and a £200 fixed penalty fine instead of the former £100 fine.
New drivers, who only start with six points on their licence for the first two years, will be banned if they use their mobile phone just once. Their licence will be revoked immediately meaning that they will then have to apply and pay for a new provisional license and pass both the theory and practical tests all over again.
The new laws also apply to any driver who is just queuing in stationary traffic or temporarily stopped at a set of traffic lights as this is still classed as driving as you are still in charge of a vehicle and the engine is still running.
Facts on Using a Phone While Driving
If you must use a hand-held mobile then you will have to stop driving and park up in a safe place. You cannot touch your phone whilst you are driving at all; you cannot answer or hang up a call even on hands free.
You can still use your phone as a sat nav, providing you programme it before you start the car and set off and the phone is secured in a holder out of the 45-degree angle of your view. You cannot re-programme it or touch it whilst the car is in motion.
You can only use a handheld mobile phone if you need to call 999 or 112 in an emergency and it is unsafe or impractical to stop.
How to be a Safe Driver
The stricter laws have been introduced by the Department for Transport in a hope that it will make drivers think twice before they use the phone; ignoring your mobile phone is difficult but it is not worth risking putting people's lives at risk.
So remember using any sort of mobile phone device is now illegal when driving and all phone calls other than in an emergency should be avoided. All drivers, just like the I Love meet and greet drivers, must adhere to these rules to make our roads safer.
By
Sarah Anglim
at 18 Apr 2017