Travelling Light with Hand Luggage Only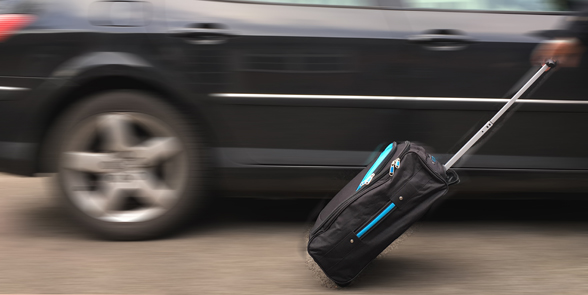 Whether you are going away on a weekend city break or short trip, travelling with hand luggage will not only save you considerable time at the airport but will save you pounds too, making your break away even better value for money. And with the cost of checked in baggage as much as £75 in peak season it is no wonder that more and more travellers are opting to fly with hand luggage only.
Taking hand luggage saves you time not only at your departing airport especially if you have checked-in online allowing you to head straight through to security after arriving at the airport avoiding all the lengthy queues at the check in desks. And when you arrive at your destination there is no hanging around waiting for the luggage carousel, you just get off your flight, clear customs and walk straight out of the airport.
With a little bit of advanced preparation particularly with security rules and weight restrictions, travelling with hand luggage only can be extremely convenient.
Make sure you check with the airline that you are flying with about their hand luggage sizes and weight limitations as hand luggage regulations; bag size, the number of bags allowed and the required weight, differ hugely from airline to airline.
Some airlines allow one extra piece of hand baggage like a handbag or laptop bag or one duty free bag whereas other airlines often require you to fit this into your carry-on luggage. Any hand luggage over the airline's weight limit could entail excess baggage charges so make sure you measure and weigh your cabin bag. Also be aware that some airlines now have cut off points on the number of hand luggage items allowed into the cabin i.e. Ryanair will only accept the first 90 passengers' bags and any remaining items will be placed in the aircraft hold free of charge.
Once you have checked with your airline and know your hand luggage size limit make sure you get the right bag. A hard cabin case will give you more protection for your belongings but a material or soft case are usually lighter in weight and allow you to cram it into the overhead lockers on board your flight.
Be ruthless when you are packing, only pack what you need and carry as little as possible. Wearing your bulkier items on the plane like jeans, sweatshirts, hoodies and using your pockets for items like phone chargers, cameras, books and your travel documents will all maximise your weight allowance.
The 100ml toiletries rule still needs to be obeyed so decant liquids into small bottles that fit into one resealable plastic bag for security. Toiletries that constitute a liquid are lipsticks, deodorants, toothpaste, hand cream etc. You can always buy items you may need airside or at your destination. Baby milk and food are exempt from the 100ml rule but you are only allowed to board with sufficient for the trip and you may be asked to taste it when you go through airport security. Medicines and tablets are all fine to take through security as long as they are not over 100ml.
Flying with hand luggage only certainly seems to be getting more and more popular and why not save even more time at the airport by booking with I Love meet and greet. Drop your car with one of our drivers right outside the airport terminal and you will be through to your departure gate in no time at all.
By
Sarah Anglim
at 15 Mar 2016