Travelling in style…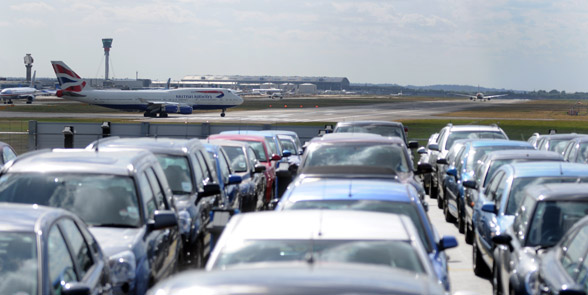 A South Carolina policeman has left road users rubbing their eyes in disbelief when he takes to his local streets – in a converted aeroplane.
Jeff Bloch, 40, created his unlikely mishmash of transport, which can reach speeds of up to 90 miles per hour, by joining an abandoned Cessna aircraft with a Toyota van to compete in the 24 Hours of LeMons race in South Carolina.
Since then, the amateur mechanic has kitted out the craft, appropriately named Spirit of LeMons, with headlights, brake lights and indicators, making it legal to drive on the roads.
However, although Mr Bloch has combined two fundamentals of the meet and greet industry, an aeroplane and a car, we can't help but think there must be easier ways to get around – especially when it comes to travelling to the airport for a holiday.
Rather than cruising around in a car with a cockpit, most of us will likely rely on traditional methods of transport – whether it's a bus, taxi, or our own vehicle – to get us to the airport.
If you do decide to travel in your own car, you can make an occasionally hectic airport experience easier courtesy of a valet parking service from I Love meet and greet.
Simply pull up at the terminal where one of our uniformed drivers will collect your car and take it to our secure, authorised car park, allowing you to get to check-in within minutes. On your return, your car is only a phone call away, meaning you'll be back on the road for home in no time.
Available at all of the UK's largest airports, the team here at I Love have been helping travellers since 1984, safeguarding our customers' vehicles for the duration of their trip – and that's a guarantee!
By
Sarah Anglim
at 25 Jun 2013