Coronavirus and Airport Parking
We understand that flying in this current coronavirus (COVID-19) world is a new experience for everybody. It is our priority to ensure that all our clients and staff using our parking facilities at Gatwick and Stansted airports keep healthy and safe and follow the UK Government's guidelines.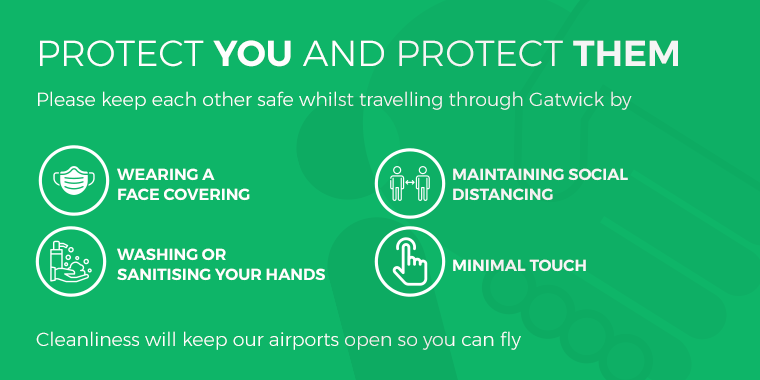 There are four key things we want to make sure keep you safe at all times to protect you and them against coronavirus
Wear a face covering at all times while travelling through the airports - it starts on our bus transfer if you are using park and ride or park and deliver. Our drivers will be wearing a face covering is meeting you at the terminal.This is now compulsory on all our Compay transport.
Maintain social distancing - we have developed a contactless check-in process so we can keep the required 2m distance.
Wash and sanitise your hands regularly.
Try not to tough communal things
Questions about Parking During Coronavirus
Are all your services operational?
Yes all our parking options are avaliable at Gatwick and Stansted
How can I ensure my car is clean and safe?
Our drivers wipe down all surfaces on collection and then again on delivery where communal touch has occurred such as steering wheel, keys, gear shift and door handles
Check In and Check Out processes
Our drivers will carry out a contactless checkin and checkout process in order to maintain social distancing
How do you carry passengers in your bus for Park & Ride
Everyone must wear a face covering and sanitise their hands before getting in the bus. Only one family will be carried if in excess of 4 people. Up to two families will be carried if 3 or less members. Between each trip the van will be fully wiped down.
My Travel Plans have Changed
Your booking can be cancelled free of charge when we issue a voucher for the full value of your booking. This voucher can be used for any future parking and is easy to use. Flight numbers and dates and times can be amended but maybe subject to additional fees in different periods of the year.
How to Use my voucher
Make a new booking using the email you are registered with. On the payment page there is a voucher button. Click this and insert the voucher code sent. If you cannot locate this contact customerservices@ilovemeetandgreet.co.uk and we will provide it. The value will be deducted form the booking. Excess payments need to be paid but if the value ifs less than the voucher retain the voucher number and the difference can be used on the next booking.
Do not go to the Airport if:
You have a temperature

Have a positive Covid test result

Have a cough or shortness of breath as you may be turned away and not be allowed to fly