How to pack an airport trolley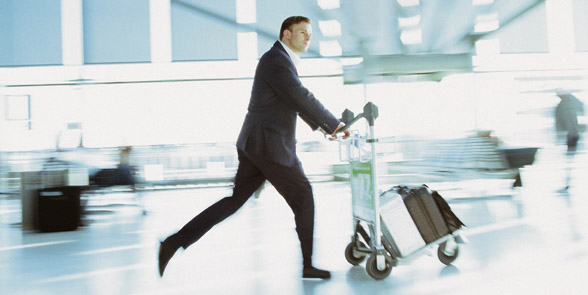 No matter how hard you try to travel light, it's pretty hard to get everything you need in a suitcase without it overflowing! And of course, the bigger your family the more stuff you need for a holiday.
Getting all of it out the house and into the back of the car is one thing, but you'll need to know the best way to fit it on your trolley when you arrive at the airport as well.
Well, the safest way to load it all on is to put the heaviest and largest items on the bottom of the trolley, and then pop the smaller, lighter ones on top. This will stop the trolley being top-heavy and save you the embarrassment of it toppling over!
Once you've loaded the trolley you'll need to make sure that the luggage is secure. While you'll probably notice if one of your bigger cases were to fall off, smaller items like handbags can fall by the wayside pretty easily.
That's why you need to make certain that items are packed securely on top of one another. If you've got any oddly shaped items, it could be worth just carrying them to save the potential issue of them knocking other items off.
Similarly, don't go down the route of letting your kids ride on the trolley. While they might be excited about the idea, it's really more hassle than it's worth, and is more than likely to result in either an accident or luggage being knocked off.
Other tips include not piling your luggage too high (you have to be able to see over the top of it for the obvious reasons!) and making sure that no straps are tailing off the back or underneath it – if you trip or the wheels catch them this can lead to a serious accident.
Finally, whenever you turn a corner within the airport or get to your terminal, check to make sure everything's still there. There's no going back after you enter certain areas – and obviously you can't leave luggage unattended within an airport, whether intentional or not.
While these are handy tips to bear in mind at the airport, we're pleased to inform you that we can help even further.
As part of our valet parking service, our driver will actually meet you at the airport terminal to help load your luggage on to a trolley, before taking your car away and parking it for you.
When you return home all it takes is one quick phone call and your car will be waiting for you at the kerb.
If you're a large family with lots of luggage or have particularly heavy and awkward items like golf bags, skis or pushchairs the airport experience is never going to be the easiest, but booking with us will certainly make it less stressful
Get in touch and find out how we can help!
By
Sarah Anglim
at 23 May 2013