New Forecourt Charges at Gatwick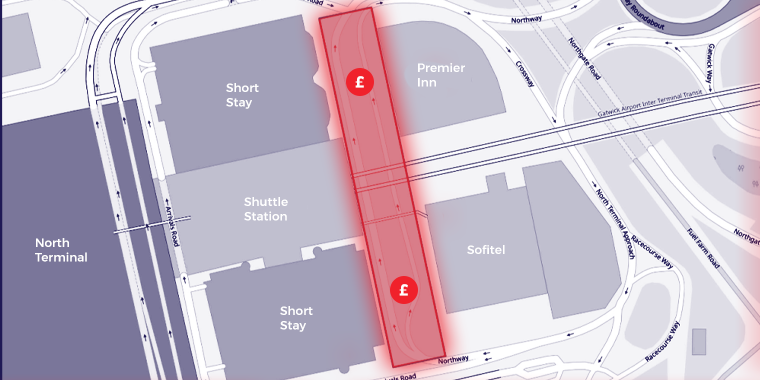 Gatwick Airport has announced that it will be charging £5 for anyone using their forecourts to drop or pick anyone up outside the terminals. A new ANPR system will record all vehicle registrations as they cross the forecourts at Gatwick which then requires the car driver to log on to an online system and pay the fee, very similar to the Dartford Bridge system.
Due to COVID19 losses, the airport sees this as a new way to generate revenue and follows other airports which already charge to drop off on the forecourt. With this though has come the termination of the Approved Operator scheme.
Gatwick had led the way in ensuring rogue traders did not operate off the forecourts by establishing the Approved Operator Scheme. This highly successful scheme and the first of its kind only allowed reputable companies with stringent customer service processes, to access the airport facilities. With its removal, we now anticiapte that many less reputable companies will use the forecourt and their customers will be met with the bill or fine unkowingly on their return.
There are currently two operators that will use the forecourt under a licence with the airport - I love meet and greet and Tudor Rose where the fees will be added to the booking and paid for by the operator direct to the airport. High customer service standards will still need to be maintained to hold these licences.
I love meet and greet continues to work with the airport to ensure a smooth process for all clients and to safe guard access to the forecourts for those wishing to have their cars collected just outside the doors. The £5 drop off and collection fee will be charged to the clients as the airprot access fee.
Sarah Anglim of I Love meet and greet " Its such a shame the airport have decided to implement forecourt charging. It was the one thing that differentiated Gatwick from other airports and for over 30 years that we have provided parking services at Gatwick, airport users have been allowed to drop off passengers on the forecourts at no charge. We do however appreciate the losses incurred by the airport during these terrible times of COVID19 and the need to recoup some money. We now look forward to this being a positive change and hope to continue our close working relationship with the airport and how best to serve those using the airport facilities."