New Year Traditions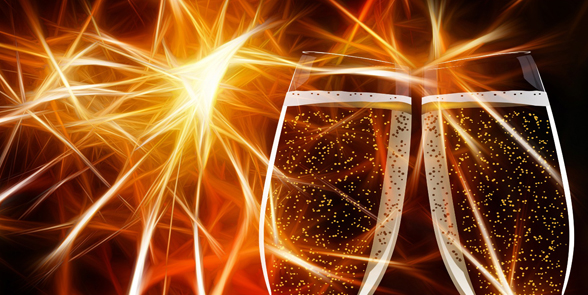 We all know that on New Year's Eve wherever the clock strikes midnight marking the arrival of the new year, British families around the world will be breaking out into a rendition of the famous Auld Lang Syne song. For us in the UK, Auld Lang Syne is a New Year tradition and a key part of our New Year celebrations.
Fireworks and New Year's resolutions also form part of our New Year celebrations as they do for New Year celebrations around the world. Fireworks are believed to ward off evil spirits and bring good luck, whilst resolutions are about reflecting on the previous year and promising self-improvement throughout the year. If you're planning a trip over the festive period, plan for a smooth trip with I Love meet and greet's handy airport extras like travel insurance, airport hotels and car transfers.
Best Places to Spend New Year
There are some New Year traditions around the world which are quite different to the traditions we have here in the UK. We have picked some of our favourite New Year traditions from around the world so if you are staying at home this year, you can use some of these alternative international influenced New Year's Eve ideas or if you are travelling abroad this year, you can decide where the best place is to spend New Year's Eve.
Hogmanay, Scottish New Year
For those who want to stay close to home, the Scottish New Year known as Hogmanay is the perfect place. In the Scottish New Year celebrations, huge fireballs on poles are swung around by townsmen during the many parades that take place. The fireballs are meant to represent the sun, and the power of these fireballs is said to purify the area ready for the upcoming year.
Another New Year Tradition in Scotland is first-footing…the first person to enter the house after midnight decides the household's fortune for the forthcoming year. For this reason, people visiting houses on New Year's Eve often bring gifts like bread, whiskey or coal for luck.
Danish New Year Traditions
New Year traditions vary across Europe depending on the country…if you are spending New Year's Eve in Denmark, don't be surprised to see broken plates and glasses outside houses. New Year celebrations in Denmark involve smashing plates and glasses against friends' and relatives' doors as a sign of friendship. In fact, the more broken crockery, the better. Another Danish New Years Eve tradition involves jumping off chairs as the clock strikes midnight to banish evil spirits and 'leap' into the New Year.
Turkish New Year Traditions
In Turkey, New Year's Eve celebrations are similar to that of Christmas – they decorate a "New Year's tree" and the house with images of Noel Baba – the Turkish Santa Claus who is also associated with New Year celebrations. An increasingly popular tradition is to wear red underwear on New Year's Eve for good luck.
New Year in Europe
New Year celebrations throughout Europe also involve very interesting food traditions. In Spain, it is traditional to eat (or stuff your face with) 12 grapes at midnight. Each grape is meant to represent a month of prosperity and good luck.
A Russian New Year tradition involves writing down your wishes for the upcoming year on a piece of paper. The paper is then burnt and the ashes are placed in a glass of champagne which you are supposed to drink just before midnight.
In Greece, New Year's Day is also the Festival of St. Basil – one of the founders of the Greek Orthodox Church. For this reason, on New Year's Eve they eat the traditional food of St Basil cake which has a silver or gold coin baked inside. Whoever finds the coin is said to be very lucky the following year. Once the dinner is over, the dish is not washed until the following day because it is considered courteous to leave some food for Saint Vassilis (Greek Santa Claus) who will bring presents in the night.
New Year in the USA
Travellers visiting the USA during New Year's will experience New Year traditions similar to our own here in the UK, with fireworks and parades in every state. The popular tradition of dropping the New Year ball in Times Square, New York City, began back in 1907 and has since continued to play a key role in the New Year celebrations.
New Year in Asia
In Asia, there are a wide range of traditions symbolising good luck. Roundness is believed to signify prosperity in the Philippines so they dress in clothes with polka dots and eat grapes on New Year's Eve.
The Chinese New Year occurs later in the month of January, during which the houses are decorated with red lanterns and the front door is often painted red to symbolise happiness and good fortune.
In Japan, they celebrate New Year's or Oshogatsu on midnight of the 1st January with 108 gong strikes from Buddhist temples across the country to expel the 108 sins of each human being.
New Year in South America
South America has been widely influential in its New Years Eve ideas for the rest of the world. Now widely used as a tradition across Latin America, eating a handful of lentils at midnight is a New Year tradition in Chile for a year of prosperity.
New Year traditions in Ecuador involve getting ready for the New Year by burning the 'ano viejos' dummies which represent the past year, whilst in Colombia people walk around their neighbourhoods with suitcases to signal a year full of travel.
Brazil has several New Year traditions involving the Goddess of the waters who brings good luck in the New Year. Jumping seven waves at the beach after midnight honours the Goddess and people additionally send out boats of flowers as a sacrifice. Another New Year Eve idea, common in Brazil, is to wear different coloured underwear depending on your desire for the upcoming year – for instance red symbolises love and yellow means money and wealth.
A New Year tradition in South America is eating Hoppin' John – a dish of black eyed peas and ham hocks. The tradition stems from an old saying 'eat peas on New Year's day to have plenty of everything for the rest of the year'.
If you are flying off to celebrate the new year, whether it is to witness the purifying of the Scottish fireballs, 'stuff your face' with 12 grapes in Spain or traipse around Colombia with your suitcases, book your airport parking with I Love meet and greet to get your new year celebrations off to a flying start.
By
Sarah Anglim
at 26 Dec 2016