Valentine's Getaways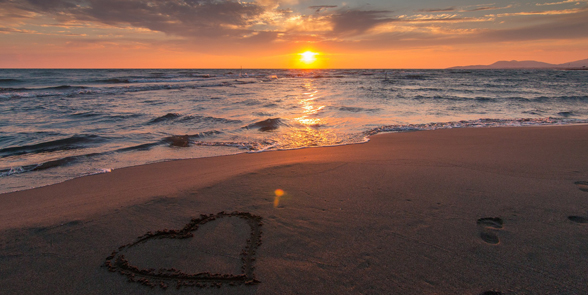 With Valentine's Day just around the corner, thousands of couples around the world will be planning exciting surprises for their partners. Romantic holidays are the ideal way to celebrate Valentine's Day with the one you love but with hundreds of Valentine's Day packages across a variety of different countries, how can you pick the perfect romantic Valentine's getaway?
History of Valentine's Day
If you are looking for some ideas for Valentine's Day destinations, then start with the origins of the day itself? Valentine's Day is otherwise known as St Valentine's Day. One story describes the saint as a Roman priest in 300 AD who went against Emperor Claudius II's ban on marriage. When he was thrown in jail he fell in love with the jailer's daughter and on his execution day, February 14th, he wrote her a letter and signed it "from your Valentine". In another story, St Valentine heals the jailer's daughter of her blindness, whilst a different version does not even mention love and simply depicts St Valentine as a Roman priest who was tortured and then killed on February 14th.
Valentine's Day also originates from a Roman festival called Lupercalia, celebrated in February as the start of springtime. One of the festival traditions involved the marriage of young boys and girls. Later the church turned the festival into a Christian celebration and used it to honour St Valentine.
Valentine's Weekend Breaks
If you are looking for an alternative Valentine weekend break to the iconic romantic holidays in Rome, Paris and Venice, there are a variety of Valentine's Day packages offered in alternative romantic cities around the world. Why not check out our helpful blog post on the best holidays for couples?
Prague is becoming increasingly popular as a romantic holiday destination for couples. Its twisting cobbled streets, old architecture, tall spires and pastel houses provide a picturesque backdrop for a romantic stroll. Whether you would prefer a hotel room with a view of the river or a room in a grand countryside retreat, with the many Valentine's Day deals, Prague offers an affordable Valentine's getaway.
Another unconventional Valentine's getaway is Austria. The stunning architecture and delightful cuisine in cities like Salzburg and Vienna are even better during February when Austrian cities host their glitzy annual balls.
Romantic Holidays
In North America, Québec City in Canada displays some of the romantic European charm from cities like Paris and Prague with its narrow-cobbled streets, cosy restaurants and an old city rich in history and culture.
For couples who prefer a bit more excitement and glamour, Las Vegas is the ideal romantic holiday. Despite its reputation as a city for singles, the dazzling sights, extravagant hotels and all-night entertainment can be the perfect Valentine's break for couples too.
In February, popular family destinations such as Florida are also a lot quieter. During this time, the beaches such as Daytona, the nightlife of Miami and Orlando's theme parks provide the perfect Valentine's break for young couples.
If you would prefer to spend your Valentine's Day relaxing, hotels in Mexico have a variety of Valentine's Day packages so that couples can enjoy some downtime in luxury spas or chill out on Mexico's breath-taking white sandy beaches.
If you are jetting off somewhere romantic for Valentine's Day, don't forget to make the most of your time together by booking I Love meet and greet which gets you through to check-in within 10 minutes of arriving at the airport.
By
Sarah Anglim
at 6 Feb 2017